20 Questions with Craig Reid of Speedy Signs Manukau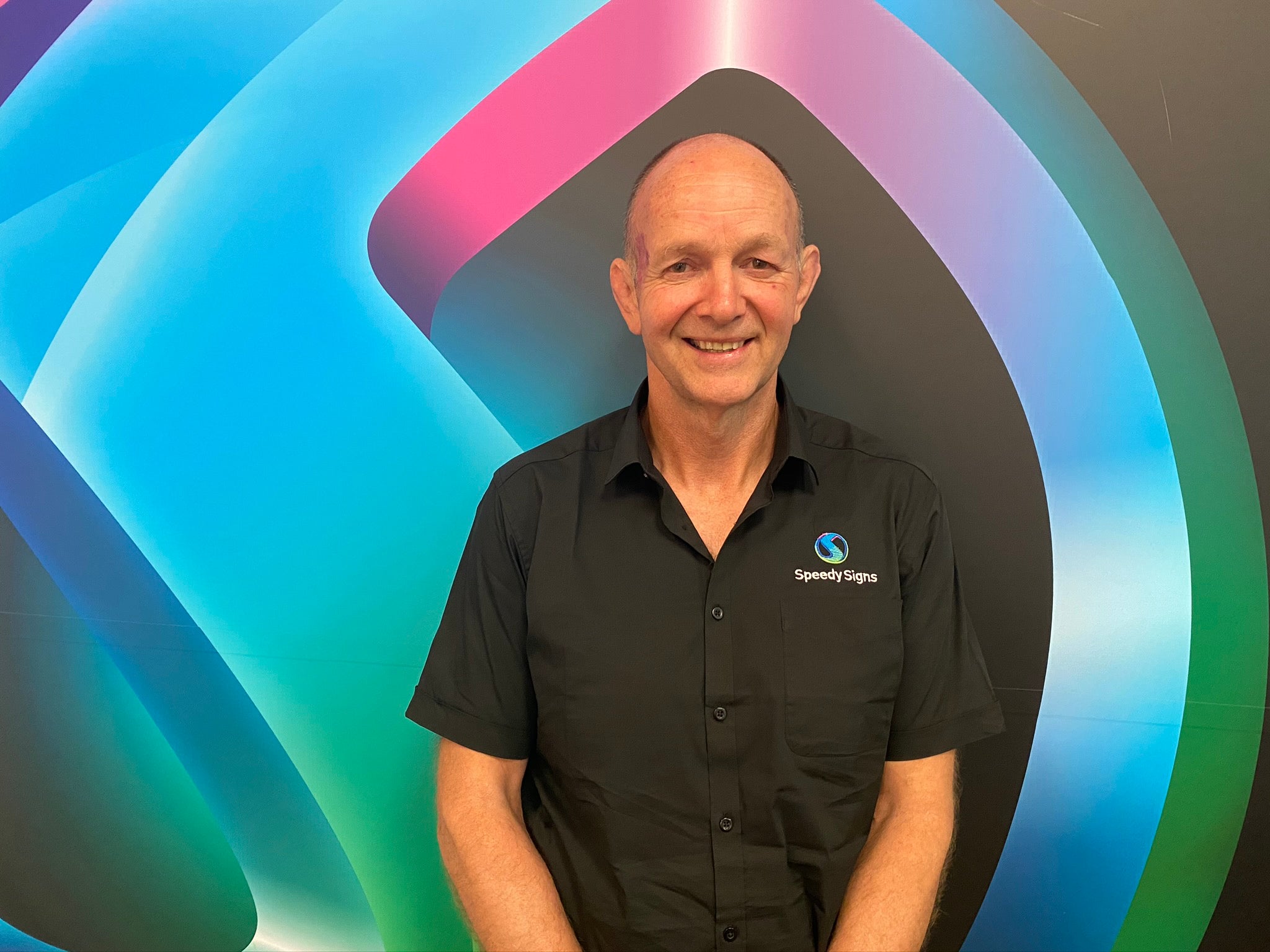 Manukau's iconic signwriting store, Speedy Signs, was opened by Bruce Hopkins in May 2000. The population of Manukau that year had the largest increase by number (4,200) and business was developing accordingly. Opening with just 2 staff members, it grew to a team of 11 and Bruce had to move to bigger premises.
After selling the business to Craig Reid in 2016 Bruce still involves himself behind the scenes in Speedy Signs, in a consultancy capacity.
#1: Craig, you bought the Manukau Speedy Signs franchise in 2016. What were you doing before you bought your Speedy Signs franchise?
I came directly to Speedy Signs from a start-up business, but prior to that, I spent 30 years in the appliance industry working for Panasonic and Fisher and Paykel.
#2: What do you love about the signage business?
I really like the variety of work. We're dealing with owner-operators through to larger corporates and multi-nationals, and it doesn't matter whether I'm dealing with a small or a large company, I really enjoy working with all size businesses. Then there's the variety of jobs we're doing, the range of signage we can offer as a one-stop-shop, it's great.
#3: What's your biggest regret? (every business owner has one!)
Not really a regret, but I probably should have invested in more equipment earlier. I have bought a bit recently which put us in good stead post lockdown.
#4: Have you ever wanted to quit, and how did you deal with it?
Interesting question. No, not here, but in the corporate world, yes on occasion.
#5: What do you love about being part of a franchise network?
The camaraderie, the quality of the business people who own the franchises is very good There are always new challenges we're presented with every day – there's someone in the group that has had the same experience and is able to offer advice and help out.
#6: What are two words to describe you?
Authentic and enthusiastic. When I was working for Panasonic I was always looking at friends' TVs, at F&P it was their kitchens, then paint colouring in the start-up and now it's signage. I am very enthusiastic about whatever I am doing, but also genuine and honest – that's how I like to view myself.
#7: Looking back on the last 3-5 years, what's been the highlight for you?
The highlight is that we are profitable and we're able to reward the staff. I'm very driven by sales, and we've grown our business every year since we started, although this year might be a challenge. I really enjoy my team, the people I work with are great we generally have a good laugh about something that's happened during the day.
#8: What do you struggle with most?
Product knowledge in the industry, but fortunately I have the franchise network to help with that. I also have very capable people across all parts of the business who can help. There are always new products coming out, so how we creatively use those products to differentiate can be a struggle for me at times. Also, focusing on getting one thing done is something I struggle with from time to time, especially when there's a lot on.
#9: I think we all struggle with that at times. Craig, if you think what a customer is asking for isn't going to work, what do you tell them?
We tell them it won't work, explain why, understand what they're trying to achieve and come up with some other solutions. It's pretty rare to not be able to help.
#10: What accomplishment are you most proud of?
In my personal life, it's my family. I know it's a cliché but I have a wonderful wife, four great children, and my first grandchild arrived recently during lockdown. In my business life, seeing the establishment and success of Panasonic New Zealand, then being able to leave my role as MD and know that the younger team taking over the senior roles were going to do a fantastic job, which they have done and continue to do.
#11: If you had one piece of advice to someone just starting out in their new business, what would it be?
Do it. I wish I had done it sooner. Being part of a franchise was important for me because I need the systems and processes around me. Trust the systems, they work. It's most important to get good people around you who have the capability and skill to do the jobs required.
#12: What would you like to say to your last boss?
My last boss was CEO of F&P, and before that, I worked with the same boss for 15 years. I would like to say "thank you"- I learned a lot from them.
#13: What project gave you the most satisfaction / are you most proud of / do you skite about?
Not a specific project but I am proud of the fact that 95% plus of our business comes from existing customers, some that were with the business when it started 20 years ago.
#14: What are you really good at?
Connecting with people across broad demographic backgrounds.
#15: The great thing about a franchise business is that you don't have to be skilled in what the business does, in this case, signwriting. What skills do you bring to the business?
I like to think I understand what a good business looks like and what it needs to operate well - namely great people, good systems and capital. I enjoy working alongside people.
#16: What's the most courageous thing you've ever done?
I stood on Sean Fitzpatrick in a ruck….he was on the wrong side!
#17: What are you known for? (or, what do you think your friends would say about you if you weren't in the room?)
I don't know – my positivity, energy and honesty I guess.
#18: What's something you learned in the last week?
How to tie braid onto nylon fishing knots.
#19: Have you ever met anyone famous?
I've been fortunate to meet lots of famous Kiwis including All Blacks - Graham Henry, who I consider a mate, Sean Fitzpatrick, Grant Dalton, Murray Halberg, Grant Fox, Gary Whetton. My father-in-law is Sir Ron Carter.
#20: If you could retire tomorrow, what would you do?
I don't want to retire, but I guess if I did, travel. Which of course would have to be in New Zealand. I have a holiday home on Great Barrier so I'd spend more time out there.